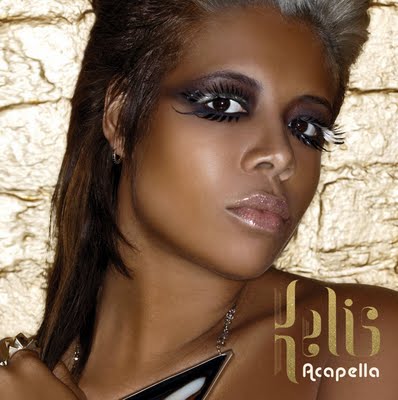 The girl with lots of tough attitude and even tougher lyrics, has traded  her previous style for a more energetic, yet dance anthem as a comeback. Apparently soon-to-be-single when she divorces husband Nas,  she also as a baby called Knight. Kelis's new material is quite a contrast to her previous songs.  The new vibe is due to producer David Guetta, who has already done some tracks with the likes of Akon and Fergie, is part of the dance anthem club.
Her brand new album, Flesh Tone, is due for release around May 17th. There seems to be alot of singers moving into electronica and dance music, and Kelis is the latest recruit having moved away from the previous urban sound of her last album. Flesh Tone is the result of collaborations with David Guetta, will.i.am, DJ Switch, Burnz, Ammo, Diplo, Free School, Jean Baptiste, Boyz Noise, and Benny Benassi.
In the video for Acapella,  Kelis has gone all tribal fantasy. In comparison to Lady Gaga whose videos are more sci-fi fantasy-borderlining-nightmares, at least in Kelis's video, it shows vision which isn't creepy to watch. Don't get me wrong, I still watch music videos by Lady Gaga, but with a morbid curiosity.  Whereas I watched Acapella with awe. Here check it out for yourself.
Having heard Acapella, it's nice to know that she can sing, unlike Cheryl Cole with her album 3 words (which wasn't that promising) let's hope Kelis's album is something to chill out to during hot summer days.
(Visited 29 times, 1 visits today)